The decision to rent or to buy is a common debate among those looking at real estate. There are a myriad of perspectives and even more aspects to be taken into consideration. There are both financial and personal factors involved in making the choice. It is almost always better to own your home than to rent; you can write off your mortgage interest while building equity. When you sell you might be eligible for a great tax break. Regardless, buying and owning a home is not for everyone. If interest rates are high while property values are low, or you are only planning on living somewhere for a short time period, it is probably better to rent a home for a while. A typically used rule of thumb is that if you don't stay in a home for at the very least 3 years, it will be hard to even break even on closing expenses. In fact, because of the high costs of home ownership, it is even possible that you will not see the financial benefits of buying a home for 5 to 10 years.

Here is an example of a rent vs. buy comparison. The renter begins paying $800 in rent per month with a 5% annual increase. The homeowner purchases a home and pays a monthly mortgage of $1000.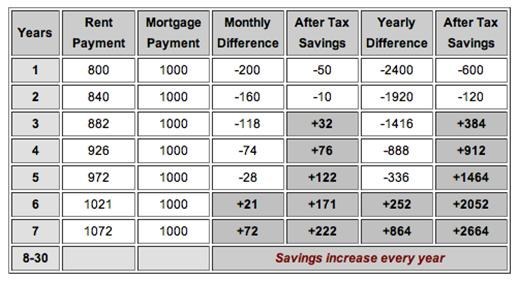 It takes six years for the homeowner's payment to be lower than the renter's monthly payment. With the tax savings of ownership, however, it only takes three years for the homeowner's payment to be less.
Ready to take the next step in home ownership? Contact John Byers to help you get started!